(Feel free to contact our clinic for more information at 403-870-4348 or 1-877-700-4348 or via email.)
Do you Suffer from Heart Disease?
Do You Suffer from Angina?
Do You Struggle With Heart Failure?
Are You Taking Too Much Heart Medication?
Are You Having heart surgery…again?
Are Your Arteries Not Agreeable To A Stent Or Bypass?
Do You Have Diabetes?
Do you Have Hypertension?
Do you Have Circulation Disorders?
Patients nowadays are taking a lot of medication or undergoing through heart surgery when their heart arteries are just not agreeable to foreign objects. Heart stents DO NOT prolong life. Bypass surgeries can be great but many times when they use veins to bypass they are not adapted to delivering oxygenated blood, like arteries are. That is why heart stents and bypassed arteries can close up, leaving you with problems again. We as a cardiac rehabilitation, maintenance and heart attack and stroke prevention clinic have been helping people with their heart health for a long time, and have unfortunately witnessed the problems of heart surgeries, heart failure or too many medications.
WHAT IF THERE IS A BETTER WAY?
External Counterpulsation (also called EECP or ECP) can be your solution to saving your life. ECP is FDA approved for the treatment of angina, congestive heart failure, acute MI, and cardiogenic shock. ECP is performed all over the world and the United States, and now you don't have to travel far away for this sought after treatment for heart disease, like the Mayo or Cleveland Clinics. The Heart Fit Clinic in Calgary is now offering this safe, non-invasive treatment for heart disease.
There is a better way. The owner of 5 hour energy is doing amazing things. Watch the documentary "Billions in Change". The last 15 minutes discusses how External Counterpulsation can help you.
http://billionsinchange.com/film

zF5wtko0m3JFxbh6
WHAT DO CARDIOLOGIST THINK ABOUT ECP?
Cardiologists train very hard to "treat the heart". They are trained to stress it, image it, measure it, pace it, shock it, stent it, ablate it, revascularize it, and bathe it in drugs. They take years of specialized training and expertise, millions of dollars of high-tech equipment, and great manual dexterity, and it brings them tremendous prestige, even among their peers within the medical community.
Most cardiologists, incorporating EECP into their practices would be logistically difficult, not to mention expensive. Yet it has been recognized extensively by the FDA, American Heart Association and European Society of Cardiology. There are some that step out and see the bigger picture to their patients and are doing External Counterpulsation (EECP / ECP)
IN CANADA: There are 2 cardiologists that are big fans of External Counterpulsation.
Dr. Keysun (Edmonton, Alberta) (Instrumental in starting up ECP in the Middle East)
Dr. Jolicoeur (Montreal, Quebec)
Many cardiologists are just not that familiar with ECP and have to be careful as to what they say and recommend due to liability. If you want the benefits then you are just going to have to look outside the "cardiology sandbox" and what they are trained to do. The really good cardiologists are going to recommend exercise, truly eating well, keeping stress controlled and possibly ECP (all which falls out of their expertise)
ECP Recent Mentions:
January 2014
External Counterpulsation Therapy has been reclassified by the Food & Drug Administration for severe Angina not amendable to surgery. This comes as big news to the External Counterpulsation Therapy industry as the ECP and EECP devices have been categorized as a higher class device. The U.S. Food and Drug Administration (FDA), Department of Health and Human Services, issued its final decision to reclassify ECP Therapy Devices for treatment of chronic stable angina for patients that are refractory to anti-anginal medical therapy and without options for revascularization.
December 2013
EECP (Enhanced External Counterpulsation Therapy) is given Recommendation in the 2013 European Society of Cardiology (ESC) Guidelines on the Management of Stable Coronary Artery Disease (SCAD). The guidelines were released during ESC's annual meeting which took place from August 31 to September 3, 2013 in Amsterdam, the Netherlands.
Heart disease continues to be the leading cause of death of men and women, and when people survive they can be left with complications. People visit their doctors and are left with no hope other than taking cardiac medications or having surgery. Cardiac medications may be better than nothing, but there is a better option. The goal of cardiologists is to ensure you are not high risk. Once you are not high risk, more often than not, you may be dismissed.
HOW DOES IT WORK?
External Counterpulsation is a safe and natural treatment where the patient relaxes on a bed. A set of inflatable cuffs is placed around the legs and pelvis. The cuffs are sequentially inflated from the bottom up, under high pressure. This causes the arteries and veins in the lower extremities to pump and forces the blood upwards toward the heart. A wave of pressure then proceeds into the heart and into the coronary arteries. The result is a massive blood flow back to the heart, a significant increase in cardiac blood flow. This speeds up the formation of collateral circulation, which your body does naturally, after 35, one hour treatments.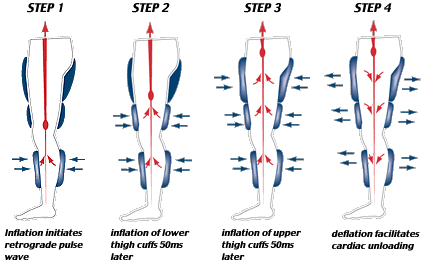 After a series of treatments, usually 35, 1-hour in length, collateral blood vessels develop around the heart, creating a natural bypass around the occluded vessels. The response rate for patients suffering from angina is around 80 percent, with none of the risks of open-heart surgery or angioplasty. This massive blood flow back to the heart helps improve the endothelial (inner lining of the arterial wall) lining. ECP  speeds up the formation of collateral circulation, which your body does naturally. After treatment, these new arteries bypass blocked arteries.
IMAGINE YOUR SITUATION WITHOUT SO MANY MEDICATIONS
Imagine getting up in the morning and not having to take so many medications for your heart. Imagine having the confidence and increased heart stamina to perform activities you love to do, whether it is sports, activities, hobbies or even having sex. Imagine your arteries getting healthier from the inside leaving them less vulnerable for plaques. Your body is amazing at healing itself, it just requires the right environment to do so.
WHY US?
The Heart Fit Clinic has been helping people with their heart health for a very long time.
We perform:
—
Heart Assessments (most that are not available at your doctor's office)
Cardiac Yoga and Meditation
Clinical Exercise Programs (Clinical Personal Training) and Nutrition Programs
AND NOW
EXTERNAL COUNTERPULSATION THERAPY
We Have Been Featured Extensively in Your Media since 2007

ECP Calgary EECP Calgary
ECP Alberta EECP Alberta
ECP Canada EECP Canada
External Counterpulsation is being extensively used all over the world for the treatment of heart disease. Canada's healthcare system is in crisis. People have been flocking south to the States for better answers and treatments for their heart health. Now this is no longer required, with the expertise of the Heart Fit Clinic, and the use of ECP therapy, people are heading to our clinic to prevent and reverse heart disease.
There are many places using External Counterpulsation and you can view some videos here. It is your secret to reversing the aging process.
WHAT DOES IT DO FOR ME?
Thousands of people have experienced the benefits of ECP. Please review video here.
People may experience the following direct benefit after a course in ECP treatment (based on clinical research trials):
Improved function of arteries, endothelial function so that your arteries minimize plaque build up.
Improved Reduce or eliminate symptoms of chest pain and shortness of breath.
Reduces arterial stiffness so that you can have better blood pressure control.
Increases circulation so you can do the things you love to do.
Improves organ dysfunction so that you can minimize failure of vital organs.
Improves blood flow to the brain, increases alertness.
Creates new blood vessels and grows new arteries, so that your heart can have a natural bypass.
Strengthens heart and cardiovascular system so that you can spend time with loved ones.
Increases lymphatic circulation.
Reduce symptoms of Parkinson's Disease.
Reduce symptoms of Dementia (Alzheimers Disease).
Reverses effects of heart disease: stops plaque build-up, increases stem cells, acts as anti-inflammatory, increases nitric oxide.
Decrease Medication (including Nitroglycerin).
Enhances quality of life (less fatigue, better sleep, more stamina, longer exercise duration, reduced stress, passive exercise benefit as from one hour of aerobics).
Improves longevity with anti-aging effects.
Decreases anxiety and depression.
Antioxidant and detoxification effect.
Improvement in sexual function for men.
Reduces Heart Palpitations.
Reduces symptoms of fatigue.
Improved oxygen consumption and tolerance.
Reduce leg pains from peripheral vascular disease.
Reduction in Angina & Heart Failure symptoms & Classifications.
WHAT OTHERS ARE SAYING ABOUT ECP?
Because ECP is being used worldwide there are literally thousands of testimonials of patients using External Counterpulsation.
There are thousands of medical centres and academic institutions throughout the World that are using ECP for cardiovascular disease.
Some of them include:
The Mayo Clinic
NYU-Langone Medical Center
Beth Israel Medical Center
University of California San Diego
The Cleveland Clinic
Duke University Medical Center
University of California Los Angeles
University of Pittsburgh Medical Center
Here are some results that patients discuss with ECP:
Harry Maik Doing External Counterpulsation
:
Dr. Thom Evans using Heart Fit Clinic and External Counterpulsation:

Allan Marston Doing External Counterpulsation:

"
Before I started ECP, I had a triple bypass surgery, numerous angioplasties, stents in the iliac arteries of the legs and a carotid artery surgery in my neck. I was on fifteen different medications. I am also a diabetic and have kidney disease with one kidney working only at 20% and the other at 80%.
ECP has improved my kidney function and I now have no chest pain. I can now walk 1-2 miles with no problems where before I could not walk 1-2 blocks. I have cut my blood pressure medication by 240mg and my diabetic medication by 2.5 mg so far.
My blood pressure now runs 120/70 or 130/70 most of the time. My sugar level runs about 100-130. My legs feel much better than they have for years. I am very happy with the results."
-D.C.
"
I have had thirty five treatments of ECP that has been beneficial to the quality of my life. Before the therapy, I could walk around for about five minutes. Since completing ECP, I can walk around for approximately an hour before resting. Six years ago, I had a stroke which affected the right side of my body. I had to use my left hand to raise my right arm and hand. Now that I have finished ECP, I can raise my right arm and hand without help. I am also more alert, energized and have less pain.
"
-B.S.
"
I had open heart surgery on June 20, 2002. I was in and out of the hospital thirteen times in the following ten months. I have been on over thirty three different prescription medications. The side effects of the medication and the multiple return trips to the hospital have been very unpleasant and exhausting. I had been unable to drive my car due to side effects of the medications.
I began ECP treatment on May 6, 2003. After a very few treatments I began to feel much better. I have more energy physically and mentally. I have now completed the 35 treatments recommended and I feel better now than I have felt in the last couple of years. My prescriptions have been dropped to five. I am a firm believer in ECP.

"
-R.H.
SAVE TIME AND MONEY
The cost for you to travel to the States can be expensive. You will spend thousands of dollars on travel, hotels, meals and insurance costs plus the treatment costs. You will save all that plus you will receive our expertise and heart assessments to show you efficacy of treatments.
HERE IS WHAT WE ARE OFFERING YOU!
Come in and get your FREE SESSION OF ECP. Experience the power of ECP and learn how the Heart Fit Clinic will help you prevent and reverse heart disease.
WHY ARE WE DOING THIS
The reason why we are doing this is that we genuinely enjoy working with people with heart disease and number two, some people we have this conversation with might become clients. If you decide to become a client our programs assessments starts at $295. We would be happy to send you an fee structure of our programs.
But please understand our conversation will in no way be a sales pitch in disguise. We will not pressure you or bother you to become a client in any way. We have many people that can attest to that.
As a matter of fact we are so confident that you will find our session extremely valuable, that in the event you tell me that I have wasted your time, we will give you a $200 DVD program as compensation for the time we spent together.
WARNING
We cannot, however, be of service to everyone. The only people who can genuinely benefit from us,  is people who have stable (out of the hospital) heart disease or at risk of heart disease and who want to invest in themselves and make a difference in their heart. These are people who are looking for answers outside Alberta Healthcare.
If that sounds like you, we want you to click on the link below. It is going to take you to a questionnaire, and gather a little information about your situation, see what you have going on, so we can make sure we are best prepared to help you prior to our conversation.
LIMITED TIME OFFER
This offer will expire soon as we can't offer this FREE session for a long time. If you are serious about your heart and making dramatic changes then please act now.
GUARANTEE
Remember we will not waste your time and we stand behind what we do. We are so confident in what we do that is why we have a guarantee on all our services.

Feel free to contact our clinic for more information at 403-870-4348 or 1-877-700-4348 or via email.